We're Back!
Building on Our Past to Create Our Future
help our cause
For the past 70 years, Bryant Resource Center (BRC) has provided community resources to the North Omaha community to keep children and families safe by providing an assembly space to educate, support, nurture, and protect the residents of the surrounding communities.
About Bryant Resource Center, Inc.
Our Vision
The vision is to return the Bryant Center to a community hub in North Omaha.  When the renovation is completed, the Bryant Center will have a community room available for community meetings or gatherings in addition to providing space for our partner non-profits to use to offer services to the community. 
The Bryant Center will have a computer center which can be used as a testing site for education and job training programs.  In addition to renovating the building itself we plan to integrate technology and make it a "smart building" to take advantage of all the tools available through modern computing and the internet. 
The Need and the program
Our goal is to once again make the Bryant Center a hub for the North Omaha community and provide services to community members. Many chronic challenges were exposed during the Covid-19 Pandemic. *See effects on Community well-being toggle below.
As a result of these socioeconomic challenges, board members of the Bryant Resource Center, Inc. proposed a project: Revival and renovation of the BRC, Inc. and the Bryant Center building.  The same vision gave birth to the BRC A.M.E.S. Project.  The A.M.E.S. Project when fully implemented will provide Advocacy, Mentoring, Education, and Support (AMES) contributing solutions to problems existing in North Omaha.  The A.M.E.S. Project will address social justice and workforce and economic development initiatives and compile valuable data to help bridge the gap between the needs of North Omaha and community resources.
our services
Programs will be offered through our contracted entities, Lyfe Changes, Inc. and Omaha Skills Connection.  Lyfe Changes has already launched Project Safe Space which will work with juveniles awaiting adjudication for a criminal offense with the goal of reducing or eliminating incarceration..  Omaha Skills Connection has developed programs that will provide training for good jobs and financial literacy.  The Bryant Center will also provide youth athletic opportunities and healthy life style education. 
Services will include guidance and coping skills for victims of systemic trauma and job and life skills classes.
COVID 19 Effects on Community Well-Being
Education:  Douglas County 2021-2022
Living in Poverty and Failing to Attend School Feed Off Each Other.
In Douglas County 76% of students living in poverty missed more than 10 school days
91% of Native American students living in poverty missed more than 10 school days
86% of Black students living in poverty missed more than 10 school days
76% of Hispanic students living in poverty missed more than 10 school days
74% of White students living in poverty missed more than 10 school days
Employment:
Throughout the country unemployment claims increased during COVID-19.  The demographics of claimants between March 2020 and March 2021 were similar:
Black or African American workers filed a disproportionately higher number of claims
Black or African American Nebraskans make up roughly 5% of Nebraska's workforce according to the U.S. Census Bureau
From March 2020 to March 2021 Black or African American workers accounted for roughly 17% of continued unemployment claims; three times more unemployment claims in December 2021 than White Nebraskans
Public Safety:
Crime increased across the country in 2020, including in Omaha.
Tickets for excessive speeding increased by 70% in 2020
Murders increased by 50% from 2019 to 2020
Rape increased 13%
Theft increased 7%
Property Crime increased 3%
In October 2021 the Omaha Women's Center for Advancement (WCA) reported a 40% increase in hotline calls which totaled 8200 for the year before October 2021
We Have the Power to Impact Our Future, and We're Doing Something About It
The Rev. John Killoren, then-pastor of St. Benedict the Moor Catholic Church in North Omaha, opened the basketball center in 1966. During the civil unrest of the 1960s, Killoren wanted to offer more community outreach by providing lighted basketball courts at 24th and Burdette Streets, on church-owned property that covered almost a square block. A shelter and restrooms were built near the courts with money from government and private funding.
The center's namesake, George Bryant, not only was a top musician, but he also was dedicated to working with youths, teaching them music and encouraging them to stay in school.In addition, he was choir director at St. Benedict for many years and a trustee of the parish. Bryant received papal honors on two occasions for his contributions to the life of the parish and the community.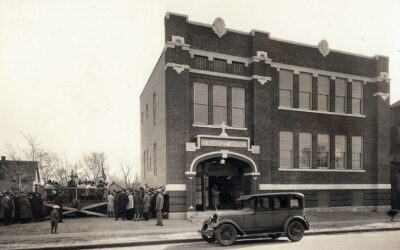 The capital campaign is raising money to renovate the Bryant Center building...
read more
The Bryant Resource Center, Inc. ("BRC") has successfully offered various community development and support activities to improve the socioeconomic development in North Omaha. We work with:
Labor Unions & Construction Firms

Suppliers and Business Professionals in programs like G.O.C.A.

Community Religious Groups

Chosen One Child Development Center
BRC has also provided building space for:
Boxing events

Youth clubs and practices

The African American History Museum

 A North Omaha Senior Center

 Head Start Programming